HOME

Malta
island with a history




Copyright picture: Jörg Reichel

Malta, officially Republic of Malta, republic pop. 450,000, 316 sq km, in the Mediterranean Sea South of Sicily.
It comprises the islands of Malta (246 sq km), Gozo (67 sq km), and Comino (2.6 sq km), as well as four uninhabited islets. The group is sometimes called the Maltese Islands. Valletta is the capital.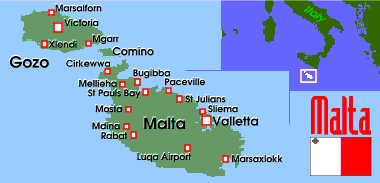 In Malta you can find many places of interest and more than 350 churches.
The capital of Gozo is Victoria.

sometimes offline