feb 10 2009
Gezien op het eiland Madeira.
As seen on the island of Madeira.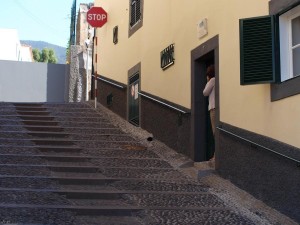 Klik op de foto voor een groter formaat.
Click on the picture for a bigger size.
12 Reacties/Responses to "Stop !! ??"
ik schrok even cor:-)

maar we gaan door h

…das stop schild leuchtet sch

…steht auch hier nicht, dass da autos fahren

Ein interessantes Foto, das hat was.

Klasse gesehen mit dem Stoppschild Cor – ist nicht allt

tja … um sch

Mooi standpunt.
En Cor,
jij als kenner van isle of man, ben je daar nog niet de Peel tegengekomen, daar zou er nog

Mooie compositie!
Gr.
P-TER

Alhoewel een ander eiland, toch heel herkenbaar.

Auch nicht schlecht

LG Gerd

Voetgangers hebben voorrang van rechts h

Wat een mooi lijnenspel zit er in deze foto Cor!
Commentaar/Comment