aug 22 2008
Gezien in keuken van oude boerderij op het eiland Isle of Man.
Seen in the kitchen of an old farmhouse on the island Isle of Man.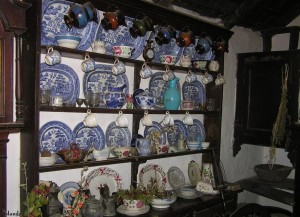 Photo Friday
Foto-Galerij Isle of Man
Reisportal Isle of Man
3 Reacties/Responses to "Photo Friday: Old Fashioned * Ouderwets"
oh …. das blaue Geschirr kenne ich …. solche eines hat auch meine Tante …. ich w

Zalig, doet mij denken aan een kast bij mijn tante Doreen zaliger.

Wel een heel chique boerderij.
Commentaar/Comment