jun 19 2009
In de straten van Lissabon.
In the streets of Lisbon.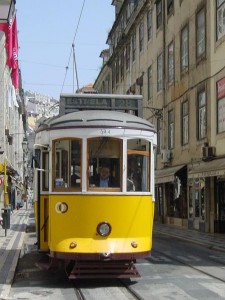 Klik op de foto voor een groter formaat / Click on the picture for a bigger size
6 Reacties/Responses to "Photo Friday: Noisy * Luidruchtig"
ja cor dat zal lekker ratelen in de straten:-)

woon jij vlakbij altweerterheide??

maak er een fijn weekend van hé.

# curieuzeneuzemosterdpoton 19 jun 2009 at 22:35

een lekker ouderwets ding!

als ie gezellig ouderwets 'noisy' is, ben jij de winnaar van deze week, cor!

Met tram 28 naar 'de Ster', lijkt Antwerpen wel.

Die trammetjes in de straten van Lissabon zijn subliem. Ik moet daar ook nog eens geraken.

…ne gute alte straßenbahn

Prachtig, zo'n ouderwetse tram… En hij brengt je naar mooiere plekjes dan de meeste trams hier

Nogmaals dank je wel voor het reageren op mijn kersverse log. Ik kijk hier mijn ogen uit!

Groetjes, Marjon.
Commentaar/Comment